Clearing your acne through diet & nutrition
You probably won't believe this because you've heard it all before, but:
I know how you feel.
I've been exactly where you are now, feeling hopeless, discouraged and resigning yourself to having acne for the rest of your life. I've felt trapped in my own body, scared to look in the mirror.
I've been there.
I've come out of the other side.
And now I'm here to help you do the same.
How nutritional therapy made me feel like me again
If you're sceptical that something as simple as food can clear your acne, you aren't alone. I've been there myself.
I could tell you about the science behind nutrition, gut health, acne, and hormones, and bombard you with sciencey jargon until the cows come home. I could write an entire thesis on probiotics and gluten and vitamin deficiencies and iron and a hundred-and-one other things.
But it'd probably send you to sleep. Because you don't care about any of that stuff.
You care about clearing your acne. You care about taking back control of your skin. You care about finally feeling confident again.
So let me tell you my story. Because I've been on the journey you're on – and I've seen first-hand how powerful nutritional therapy can be for clearing acne.
Hormonal acne hit me hard…
When puberty hit, acne came along too. And while we all learn to deal with the hormonal challenges puberty throws at us, dealing with the acne was far tougher.
I felt like a stranger in my own body, trapped in skin that didn't feel like mine.
And sure, acne is fairly common in puberty. But when it refused to budge as I approached my 20s and beyond, that's when I turned in desperation to miracle cures and snapped up every magic bullet the skincare industry threw at me.
And nothing worked.
There was no skin cream, no facial, no 12-step morning routine that cured my acne. Nothing.
… and traditional medicine failed me.
I turned to my GP for help, thinking there must be something, anything, that would help my skin. That's what GPs are for, right? To help us?
After my first GP visit, I felt like I'd made a tiny step in the right direction. I'd been recommended a 6-month course of antibiotics and benzoyl peroxide (a medicated skin cream that promised to clear up bacteria and prevent more breakouts).
But my hopefulness was short-lived.
I had a pretty severe reaction to benzoyl peroxide, leaving my skin even more irritated and inflamed than the breakouts ever had. I'd taken one step forward, and at least three steps backwards.
Nothing was working and I'd lost almost all my confidence, self-esteem and motivation. All I wanted to do was hide my skin away from the world.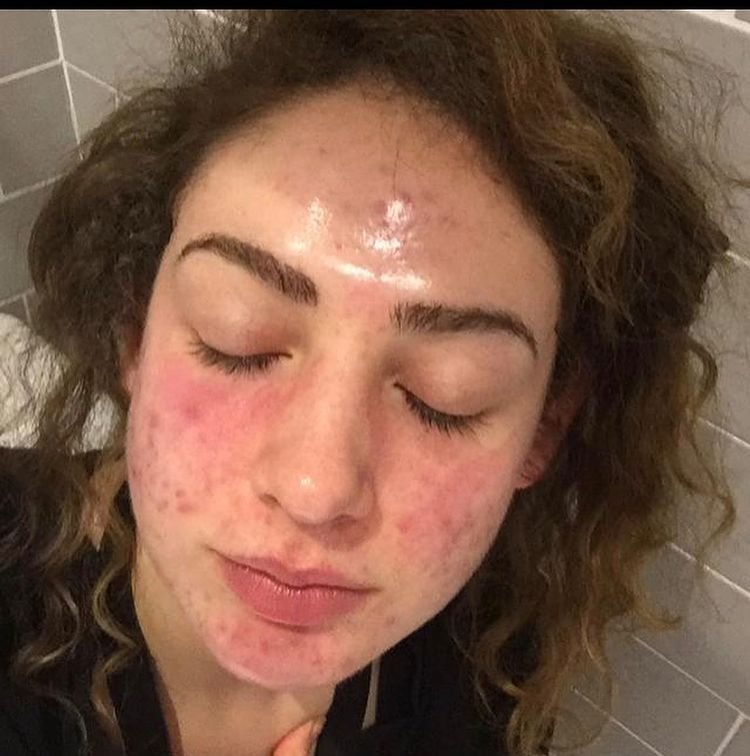 I could not recommend Emilia enough, she is such a knowledgable and caring person. I contacted Emilia in January after struggling with acne for over 12 years on and off. I was at my lowest and thought my last resort was to try roaccutane for the 2nd time. It really got me down so much that I would avoid my loved ones if I had no makeup on etc. I worked with Emilia for around 7 months on my nutrient deficiencies and hormonal imbalances through dietary changes and supplements to heal my from the inside out naturally. To say I am happy with how far ive come is a complete understatement. I feel so much more confident, I have more energy and feel like my skin no longer holds me back as much. Im still on my journey, but I can really see that finish line!
Audrey Thompson
09/11/2023
I thoroughly enjoy the course, it has given me thoughts of my well-being, How I am going to make life changing decision and putting them into practice. I definitely do not want to become a Type 1 or 2 diabetic with all the complication which goes along with it. I've learnt a lot on this course i'm very pleased I was able to complete it thank you. Audrey T
Sophia Ekundayo
18/09/2023
Emilia has been a fantastic nutritional therapist for me! I have suffered from severe eczema for over a year now but with Emilia's help, I have made incredible improvements with my skin. Dealing with severe eczema can be challenging, and having a professional who understands the condition and its dietary implications is invaluable. I have found Emilia to be attentive and responsive to my needs. She took the time to listen to my concerns and provide personalised recommendations tailored to my specific situation. Emilia's approach is holistic and comprehensive. She not only addresses the immediate symptoms but also focuses on long-term solutions. Through dietary adjustments and supplement recommendations, she helped me manage my eczema symptoms and improve my overall well-being. Furthermore, Emilia's expertise extends beyond just diet. She provided guidance on lifestyle modifications and offered practical tips for managing eczema triggers in daily life. This comprehensive approach has been instrumental in my journey towards better skin and gut health. Overall, I highly recommend Emilia for anyone struggling with food, diet and just general well-being. Her knowledge, personalised approach, and commitment to holistic care make her an excellent resource for individuals seeking relief and improved quality of life.
Emilia has been a pleasure to work with. She is professional whilst remaining kind and understanding. She takes on board your individual circumstances and needs to tailor a plan that will suit you. She has been very communicative, checking in and providing updated plans and advice when needed.
I found Emilia through a website I stumbled upon whilst researching nutrition. I'm so glad that I did as my experience with her has been amazing! I would highly recommend anyone who requires more in depth help with their skin concerns as she has been through them herself as you can see from her journey on her main website. I've had around 3 consulations with Emilia and each one has been 10/10. She listens to all my problems and concerns and takes notes of what I should be doing to help build my skin back up to being healthy. I love that I am able to contact her when i'm struggling with something and need help when buying certain food items as she responds quite quickly, which to me as a patient/client is fantastic as I feel she goes above and beyond.
Alexandria Zaphiri
10/02/2022
Emilia has helped me so much with my well-being. I was experiencing physical issues such a as frequent infections without knowing why. After being prescribed antibiotic after antibiotic and getting nowhere I wanted a more holistic approach. Through Emilia's knowledge and testing, Emilia came up with a plan for me backed by science. Sticking to her personalised plan has drastically improved my health. I didn't realise the importance of good gut health and it's effects on the rest of the body. I would 100% recommend visiting Emilia for evidence based and competent guidance.
I have seen great results from changing my nutrition and really appreciate the holistic approach taken which focused on diet, sleep, exercise and managing stress levels. The plan was tailored to my needs and the foods I already eat rather than making radical changes that are not sustainable in the long term. Overall, I received a great service and would highly recommend!
Amazing service! Would recommend it to anyone! SO worth the investment. My skin has changed so dramatically in a year. Emilia has been so supportive and encouraging throghout my journey. She really took the time to get to know me as an individual and heal my skin holistically.
Understanding PCOS, Crohn's & hormones.
At around the same time that I was hitting rock bottom, my brother was diagnosed with Crohn's disease and became very ill really quickly.
For his sake and for mine, I decided enough was enough.
I wasn't going to let acne rule my life and I wasn't going to let Crohn's rule my brother's life. I was going to take matters into my own hands and do something about it.
After many nights of Googling, I decided to study Naturopathic Nutrition. It seemed like the one thing I hadn't yet tried, and I figured that even if it didn't help me clear my acne, I could at least help my brother with his illness. 
It was early on in my studies that I came across Polycystic Ovarian Syndrome (PCOS) and it felt like reading about my exact life. I had so many PCOS symptoms I was surprised that I hadn't come across it before – so after another trip to the GP, a barrage of hormone tests and an ultrasound to top it all off, I was diagnosed with PCOS.
And I felt so relieved.
Finally, I had an answer as to why nothing was helping my skin. It wasn't because I was destined to have acne for the rest of my life. It wasn't that I hadn't found the perfect skincare routine yet. And it wasn't because it was just genetics.
It was a hormone imbalance, and something I could finally start addressing.
Holistic nutrition cleared my acne – and gave me my life back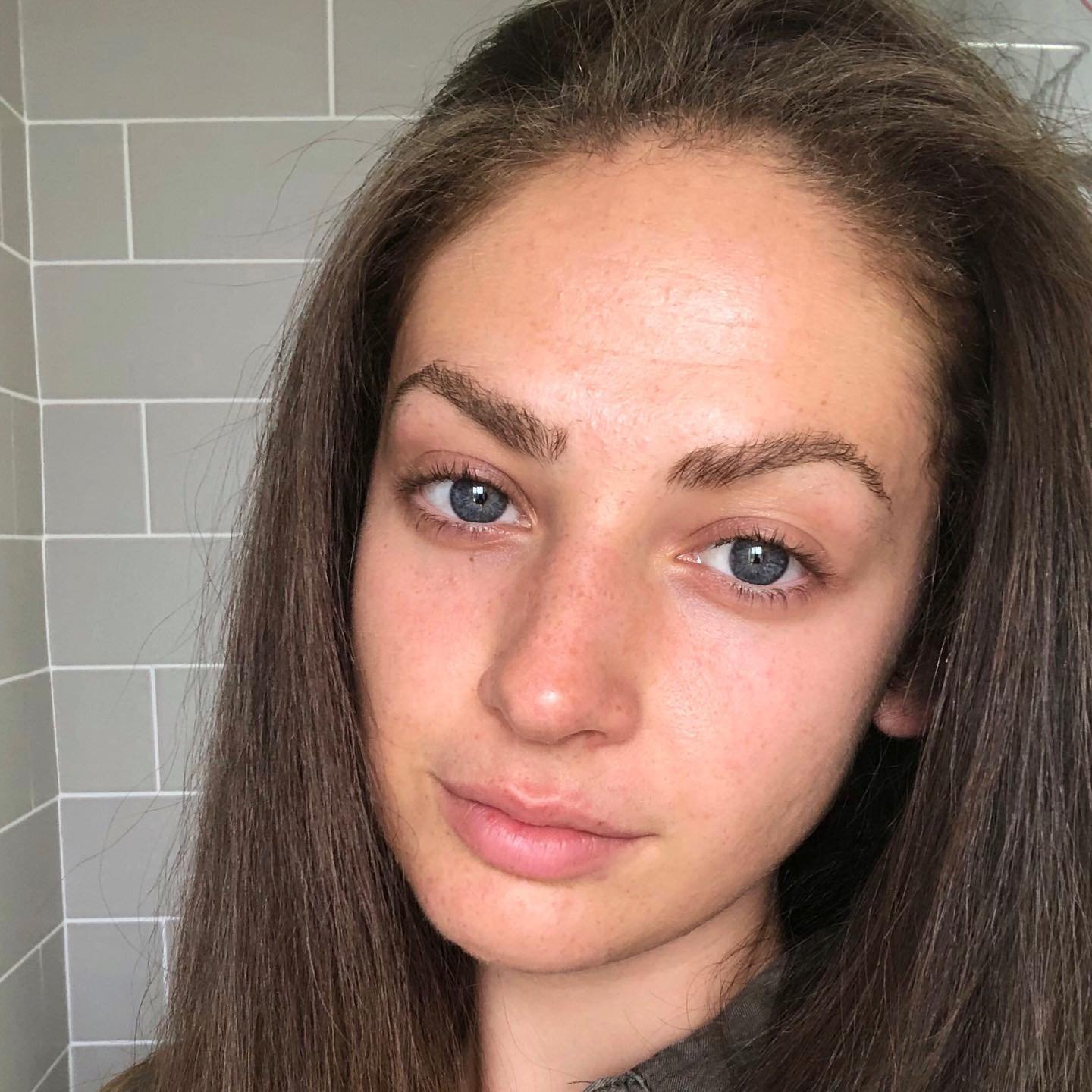 While I was studying, I began seeing a holistic nutritionist to help with my PCOS and acne.
And (I know I'm biased, but I cannot stress this enough) it was life-changing.
I finally understood what my body needed from me, what I needed to give it, and how I could work together with it instead of fighting against it.
A series of functional tests showed issues with my hormones, inflammation, blood sugar balance and gut health – and, together with my nutritionist, we started to rebalance my body from the inside out.
And it worked.
My acne cleared. My PCOS symptoms reduced. My energy improved.
My periods became more regular. My IBS was more manageable. I was no longer getting tonsillitis 5 times in a year (true story).
I was able to focus better, I finally felt more motivated, and my self-esteem improved – all because I was finally giving my body what it needed.
It didn't need hundreds of skin creams or antibiotics or anything else I'd been trying for almost a decade.
It just needed the right foods, the right supplements and a little bit of TLC.
I finally felt like me  again, and now I'm here to help you on the same journey.
Nutritional Therapist at your service
Now for the boring but necessary stuff…
How am I qualified to help you on your acne journey?
I'm a qualified Nutritional Therapist, having studied Naturopathic Nutrition at the College of Naturopathic Medicine and Functional Medicine at The Institute For Functional Medicine.
I'm a registered practitioner with the Complementary & Natural Healthcare Council (CNHC) and the Institute For Functional Medicine (IFM).
I also help with the NHS Diabetes Prevention Programme, helping people with a diagnosis of pre-diabetes, or an increased risk of developing Type 2 Diabetes in the future,  get their blood sugar back into a healthy range. 
I'm also a member of the British Association for Nutrition and Lifestyle Medicine (BANT), which means even though I've "finished" my academic studies, I'm required to complete a minimum of 30 hours every year building on my nutritional knowledge so that I'm always giving the most up-to-date, research-backed recommendations for you.
I have an annoyingly insatiable appetite for learning everything there is to know about the human body and how interconnected every part of it is, so when I'm not helping clients you'll usually find me reading journal articles, attending conferences or catching up on a webinar.
And when I'm not being a nutrition-nerd, you'll probably find me cooking up a storm in the kitchen, wandering around a gallery, or snuggled up on the sofa with a purr-fect feline friend binging The Office for the hundredth time.